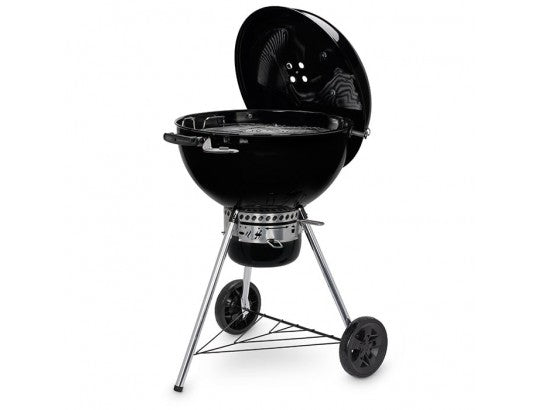 MASTER THE ART OF CHARCOAL GRILLING
Nothing beats the smoky barbecue flavor that can only be created on a charcoal grill.
Product Features
The ritual of charcoal grilling meets the convenient features and the wow factor of the Master-Touch®.
Equipped with a hinged Gourmet BBQ System cooking grate, you're also able to purchase additional inserts, like the wok or griddle, to cook smoky chili or breakfast outside on the grill.
Equipped with a Tuck-Away™ lid holder for convenient lid placement, taller legs, and Char-Basket™ fuel holders for easily arranging briquettes, all you need to focus on is mastering your dish.

• Holds up to 13 burgers made with a Weber burger press
• Slide the lid into the Tuck-Away™ lid holder on the side of the grill to avoid placing it on the ground
• Cooking grate is compatible with GBS inserts and is hinged for easily adding charcoal while grilling
• Tool hooks for hanging grilling tools, such as a spatula and tongs
• Built-in lid thermometer displays your grill's internal temperature
• Char-Basket™ fuel holders organize charcoal for direct or indirect grilling
FREE DELIVERY | SECURE PAYMENT