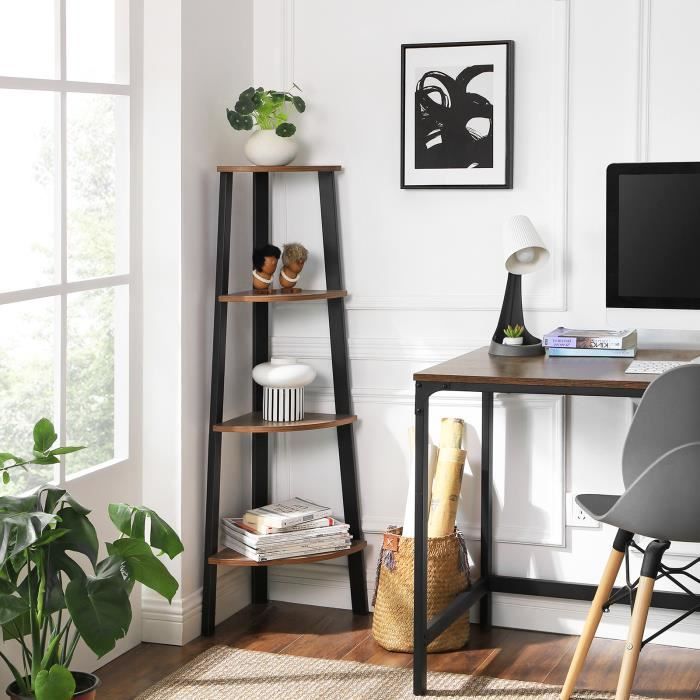 Vasagle Versatile Corner Shelf with 4 levels
VASAGLE Corner Bookcase, Furniture Shelf, Storage Unit, for Home, Living Room, Bedroom, Balcony, Retro, Black,
When you need more storage space and make full use of the space in your home, consider adding this beautiful storage shelf. It combines the charm of contemporary and classic furniture.

Place it in the living room
Fill the shelves with attractive furniture, and it will definitely become a room.
Add design to your house and make good use of your space 
Place it in the office or in your study room Keep your books, documents at hand.
Put it in the bathroom
Neatly organize your towels, toiletries, toilet paper, etc.
 Place it on the balcony 
Proudly display your plants, fish bowls, etc. 
Choose the VASAGLE corner shelf to increase storage space and add a beautiful functional piece of furniture to your home!
 Characteristics: 
- Color: Black frame, faux marble 
- Material: Iron, Chipboard 
- Dimensions: 34 x 34 x 125 cm (L x W x H)
- Weight: 6.87 kg
- Load capacity of each level: 5 kg
 Delivery: 
- 1 x Corner shelf
- 1 x User manual (FR, DE, EN, ES, IT)
 VASAGLE Precautions:
- Avoid direct sun exposure. 
- Avoid contact with sharp, sharp objects such as knives to prevent damage to the surface.