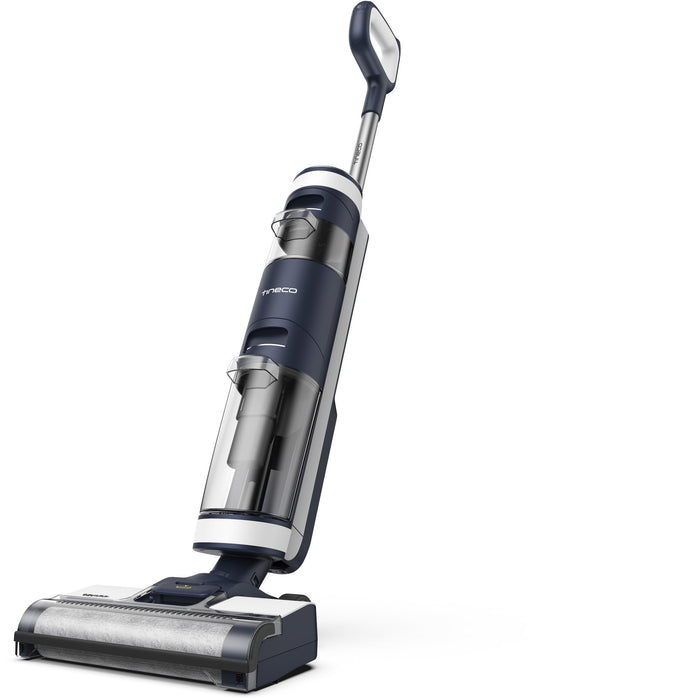 TINECO - Floor One S3 Extreme vacuum cleaner
Vacuum, wash and dry (3 in 1)

Clean water tank capacity 0.6 L

Dirty water tank capacity 0.5 L

Rapid drying of floors

Autonomy 35 minutes

Power 220 Watts / Suction 30 Watts

Roller self-cleaning function

Compatible with multiple hard floors

Smart Cleaning / Dirt Sensor

Wifi connected to the Tineco app
The Floor One S3 Extreme TINP0013EUN broom vacuum cleaner from Tineco becomes your daily companion for deep cleaning and efficient vacuuming of your floors ! 
This cordless model , in blue and white colors, is both a dry and wet vacuum cleaner . It detects, vacuums and cleans your floors , providing complete cleaning in a single pass. In addition, it uses clean water to always guarantee optimal cleanliness and it is self-propelled. With its 3 cleaning modes - Normal (dry suction), Normal humidification and Reinforced humidification - it adapts to all your needs. 
Her Powerful 220 watt Brushless motor and 30 watt suction offer exceptional performance in terms of cleaning and vacuuming.

Thanks to its Lithium-Ion battery , this stick vacuum cleaner has a battery life of 35 minutes and recharges in 270 minutes.

With only 78 dB, it operates quietly, allowing you to enjoy a peaceful vacuuming experience. Its color LED control screen displays the remaining autonomy, the selected cleaning mode and the water level in the tanks. It is also equipped with two separate tanks : a 0.6 liter clean water tankand a 0.5 liter dirty water tank. In addition, thanks to its rapid floor drying technology, 93% of water is recycled.

It detects dirt and automatically adjusts cleaning power and water flow. The "one-touch multifunction" system makes it easy to start automatic roller cleaning.

This Floor One S3 model is compatible with the Tineco application , thus offering additional features accessible from your mobile phone.

With excellent maneuverability, this stick vacuum cleaner is extremely easy to use.
FREE DELIVERY | SECURE PAYMENT