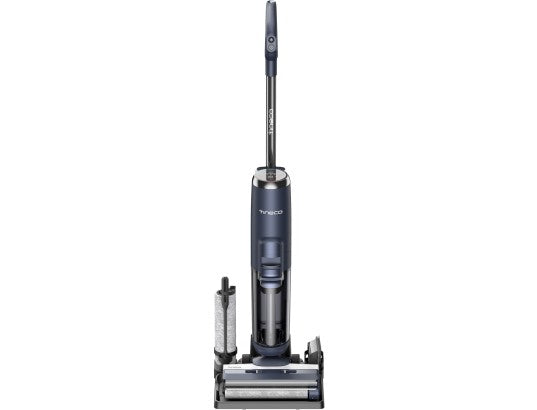 TINECO - Floor One S5 Extreme vacuum cleaner
Vacuum, wash and dry (3 in 1)

Dry suction mode

Clean water tank capacity 0.8 L

Dirty water tank capacity 0.7 L

Rapid drying of floors

Autonomy 35 minutes

Power 220 Watts / Suction 30 Watts

Roller self-cleaning function

As close as possible along the plinths

Smart Cleaning / Dirt Sensor
The Floor One S5 Extreme from Tineco is a 3-in-1 stick vacuum cleaner that vacuums, deep cleans, and dries your floors. This cordless model, blue and white in color, offers complete cleaning in a single pass, even along baseboards.

It uses clean water for consistently effective cleaning and offers three cleaning modes to meet your needs: normal (dry suction), normal humidification, and enhanced humidification.

Its powerful 220-watt Brushless motor and 30-watt suction guarantee exceptional performance in terms of cleaning and vacuuming.

The Lithium-Ion battery offers an autonomy of 35 minutes, this stick vacuum cleaner has a color LED control screen that displays the remaining autonomy, the selected cleaning mode, and the water level in the tanks.

It has two separate tanks: a clean water tank with a capacity of 0.8 liters and a dirty water tank with a capacity of 0.7 liters.

Thanks to its iLoop Smart technology, it detects dirt and automatically adjusts cleaning power and water flow. Additionally, it features a "one-touch multi-function" system that activates the self-cleaning of the rollers with the simple press of a button.

The Floor One S5 Extrême is also a connected model. It is compatible with the Tineco app, giving you access to additional features from your mobile phone.
FREE DELIVERY | SECURE PAYMENT