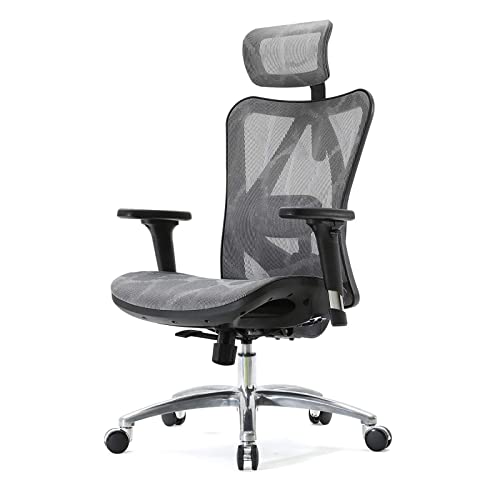 SIHOO Ergonomic Office Chair
Ergonomic Office Chair Mesh Desk Chair with Adjustable Lumbar Support 3D Armrests Breathable High Back Computer Chair (Black)
★ [Ergonomic Design] The SIHOO ergonomic chair possesses all of the characteristics of an ergonomic design. The S-shaped backrest design mimics the human spine and fully supports the back. The adjustable headrest supports the neck, providing our health-conscious customers with long-term comfort and perfect support. The ergonomic office chair can easily tilt 110°–116°–126° and is height adjustable by 10 cm in order to help you find a comfortable position after long gaming sessions or when working from home.
★ [3D Armrest] Unlike 2D armrests, 3D armrests can be raised and lowered in 5 positions, and the PU leather armrest surface can also be adjusted back and forth and rotated left and right as your sitting position changes, providing multi-angle support for your hands so that you can maintain a healthy, comfortable posture when gaming, streaming, working, or napping.
★[Mesh Material] The springy foam at the front end of the seat cushion and its curved design gives you plenty of support while sitting. The seat and backrest are made of polyester mesh which is tough and breathable and provides support while keeping you cool and sweat-free on hot summer days.
★ [High Quality & Easy Assembly] Every part of this computer office chair has undergone strict safety and quality testing, including cushion impact tests, armrest fatigue tests, and chair foot static pressure tests. The gas lift of this high-back office chair is BIFMA and SGS certified, and it can bear up to 330 lbs (23.57 st) of weight. The simple instructions allow anyone to assemble the ergonomic executive swivel chair in just 7 easy steps.
★[100% Satisfaction Guaranteed] Customer satisfaction will always be our first priority. Free returns and refunds within 30 days if the SIHOO office chair is faulty or if there are any other quality-related issues. We promise to provide you with free replacement parts during the 3-year warranty period. If you encounter any problems, please contact us and we will do our best to find a satisfactory solution.
The Impact of the Correct Ergonomic Office Chair

Having the correct chair can not only reduce potential damage but, when coupled with specific training, it can also increase employee output. Studies have indicated that an adjustable chair combined with ergonomic training can actually lead to a reduction in orthopedic damage. Further research has found that employee productivity can be increased by as much as 17.5% simply by providing them with the right chair and training.

Why choose SIHOO?

Sihoo ergonomic mesh office chairs have been certified by BIFMA and SGS. SIHOO is recommended by the Ergonomics Application Association. SIHOO's ergonomic design is based on the human dynamic digital model. The ridge backrest and the human spine are exactly the same. Fitting closer together helps release spinal pressure.
FREE DELIVERY | SECURE PAYMENT