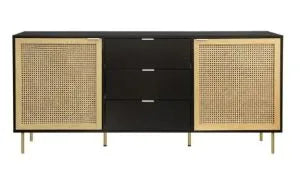 Harrod Sideboard Black and Rattan Cane
Black lacquered sideboard and natural rattan mesh
Daring to be ethical with the Harrod sideboard, its neat finishes and modern design will bring a touch of exoticism to your interior. The elegant frame of its rattan cane combined with the fine brass handles allow this sideboard to bring a touch of style to the living room while remaining elegant. Its large storage capacity will allow you to organize crockery and trinkets by playing with drawers and cupboards.
The piece of furniture surmounted by 4 brass legs also plunges into a chic and luxurious style, reminiscent of ornaments or even art decoration.
This material, more golden than bronze, is very resistant to corrosion and is easy to maintain. The feet will regain their radiance of the first days after a wipe!
Embellished with rattan cane inserts, the piece of furniture sports charm and elegance, bringing a touch of nature to your interior.
Ecological fiber 100% natural and recyclable, rattan comes from plants, palm type, originating from the countries of the south/south east.
It has several advantages: it allows light to pass through and gives the impression of an airy area, it is light and the weight of the furniture is therefore reduced, and finally, it does not require any particular maintenance.
With its shallow depth of 40 cm, it finds its place even in small spaces.
Take advantage of a significant storage volume thanks to its 2 hinged doors and 3 drawers, organized over a length of 180 cm and a height of 80 cm.
Furniture material: Particle board

Leg material: Brass

Finish: lacquered

Number and type of storage: 2 doors + 3 drawers

Dimensions: W 180 x D 40 x H 80 cm

Weight: 47kg


FREE DELIVERY | SECURE PAYMENT