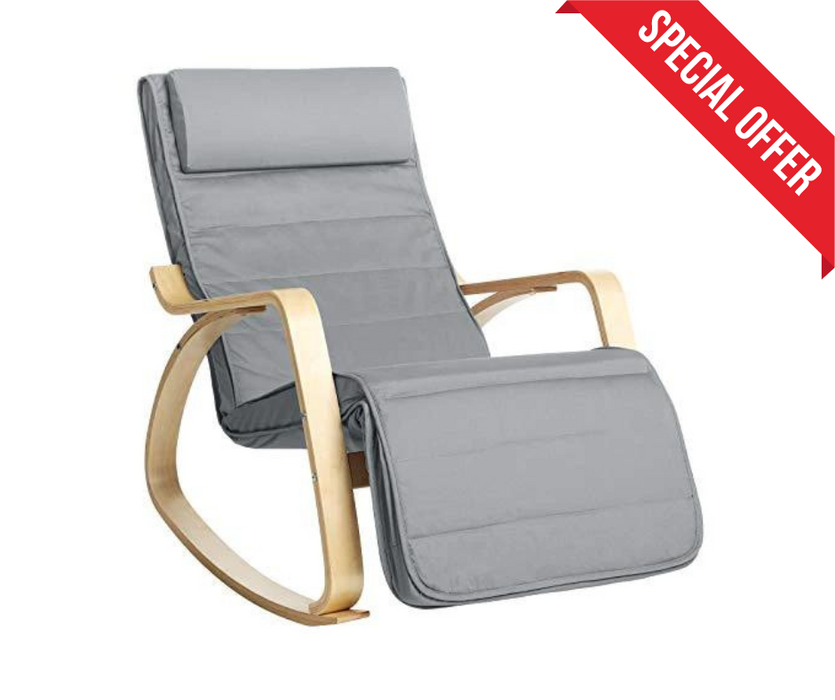 MDM Rocking Chair, Relaxing Chair, 5-Way Adjustable Calf Support
The inwardly shaped, adjustable footrest makes it easy to stand up: the foot section can not only be adjusted to 5 different positions but is also practically shaped inwards, which relaxes the body, making it easy to rock and stand up.

Good load capacity and sturdy construction: the iron and birch frame of the chair ensures a max. the load capacity of 150 kg. The non-slip felt tape attached under the feet protects the floor from scratching and makes the chair quiet when rocking.

Removable cushion and cover: the cover of the relaxing chair is made from cotton, which combines a beautiful skin sensation with breathability. Thanks to the zip on the back and Velcro on the pillow, they are easy to remove for washing.

High seating comfort: the padded cover and pillow have high seating comfort and good elasticity, which relaxes the body and mind during leisure time and also help to get babies to sleep.

Easy to install: thanks to the included easy-to-understand installation instructions (English language not guaranteed), the armchair is easy and quick to assemble and disassemble.
FREE DELIVERY | SECURE PAYMENT