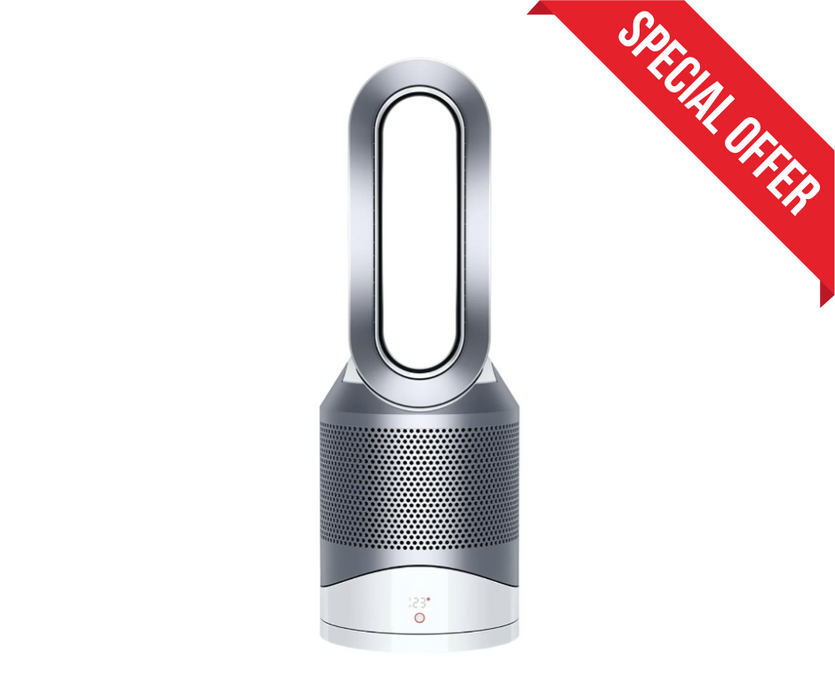 Dyson Pure Hot+Cool™ purifier fan heater HP00
Automatically removes 99.95% of allergens and pollutants as small as 0.1 microns from the air.
Dyson's Purifier Hot + Cool Machines have built-in thermostats which can save you up to 30% in running costs when maintaining room temperature.
The Dyson Pure Hot+Cool™ purifier heater heats and cools all year round while purifying the air around you. With two powerful modes, you have airflow where you want it, at the press of a button. The machine is also equipped with a magnetic remote control.
Senses and reports automatically
Integrated sensors constantly analyze your air, while our unique algorithm cross-checks data every second. It diagnoses pollutants at a molecular level, displaying live results on the LCD.
Captures gases and ultrafine particles
The HEPA H13 filter captures 99.95% of particles as small as 0.1 microns. A layer of activated carbon also removes odors and gases including VOCs.
Fully sealed to HEPA H13
In our latest purifiers, it's not just the filter that meets HEPA H13 standard, it's the whole machine. So what goes inside, stays inside.
Purifies the whole room
Only Dyson purifiers have Air Multiplier™ technology. It generates the circulation power to draw even distant pollutants into the machine, projecting purified air throughout the room.
FREE DELIVERY | SECURE PAYMENT