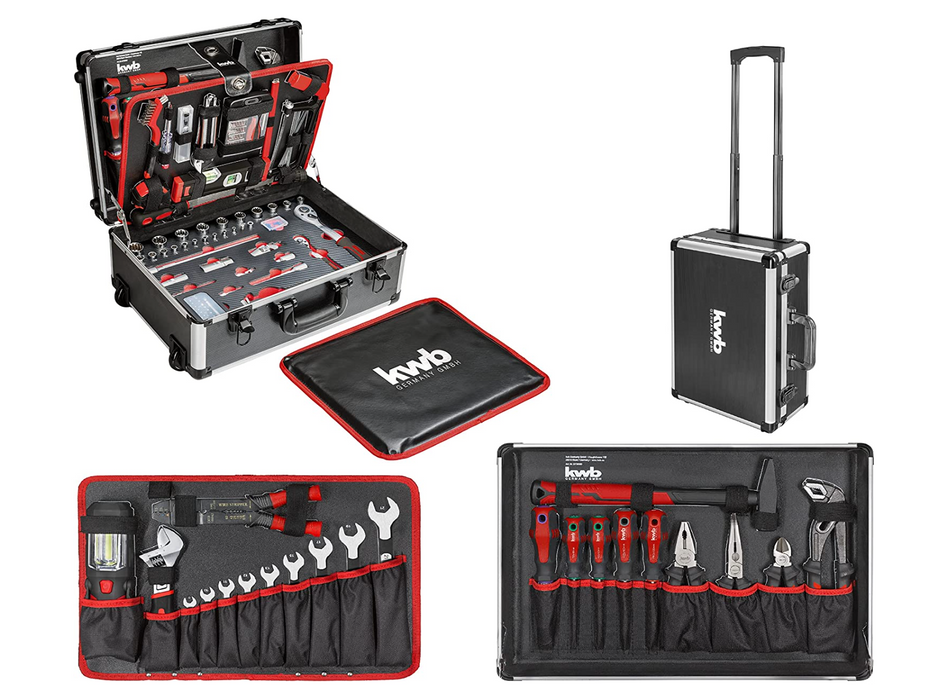 Multi tools tool case with trolley function
175 pieces, filled, tools in sturdy aluminum case, large tool set, lockable with 2 keys
TROLLEY FUNCTION: Thanks to the 2 integrated wheels made of hard plastic and the handle that can be extended in 2 levels up to 63 cm, the approx. 12 kg suitcase can be transported comfortably.

QUICK ACCESS: thanks to the soft EVA inserts, the milled grip holes and the elastic loops, the tools are easy to take out of the case and, thanks to the inscriptions, easy to store.

TORQUES WITH GEAR PROFILE: The "Gear-Lock" profile of the socket wrenches guarantees a wide variety of applications.

 

Our socket wrenches adapt to 6-point, 12-point, E, metric and inch profiles.

WITH KNEE CUSHION: the insert that prevents the contents from slipping can also be used as a knee cushion, but also as a support for the tool on sensitive surfaces.

INCLUDED COB FLEX WORK LIGHT from kwb: To ensure that the work area is always perfectly illuminated, the tool set contains a work light with magnets and suspension hook from kwb, including 3 AA batteries.
FREE DELIVERY | SECURE PAYMENT | 2 YEARS WARRANTY