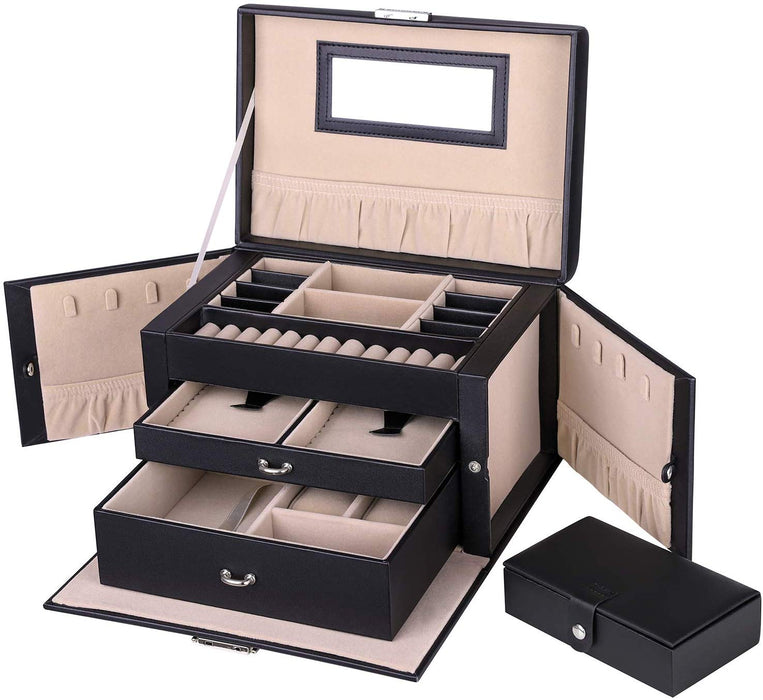 Jewellery Box for Rings, Bracelets, Earrings, Necklaces, Velvet Lining, Gift, Black

 
YOUR JEWELS DESERVE THE BEST: All of your earrings, bracelets, and rings piling up on the shelf or dresser? Beautiful trinkets can't just be shoved into a dark drawer or hung on a nail, they require a stylish jewellery box for safe keeping.

WHAT CAN BE PLACED INSIDE? With 2 drawers, 2 side doors for necklaces, and many storage compartments for rings and accessories, this 26 x 17 x 18 cm jewellery case rescues you from taking 20 minutes to untangle what you want to wear.

MINI CASE FOR YOUR NEXT TRIP: This mini case has a large mirror that many travel cases leave off, which is perfect for applying makeup on the go; it's petite enough that you can pop it in your bag for a weekend at the beach.

TAILORED FOR YOU: With a simple & stylish design, this jewellery case will be a practical gift for jewellery & accessories lovers; their eyes will fill with cheer after they see it.

100% SATISFACTION GUARANTEED: Our professional customer service is always at your disposal; so don't wait any longer, get this jewellery box home and brighten up your dressing area.
FREE DELIVERY | SECURE PAYMENT | 100% GUARANTEED