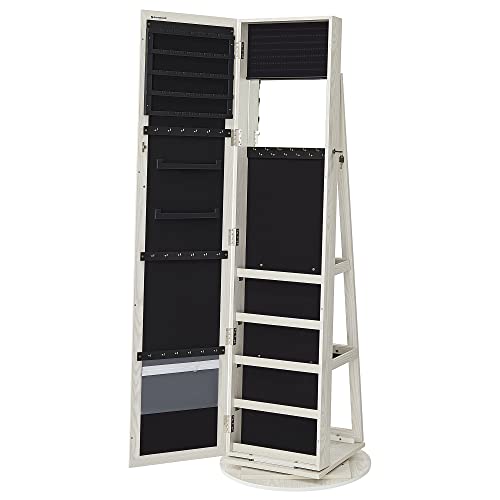 MDM Freestanding Jewellery Cabinet
Novel Design: Jewelry cabinet, dressing mirror and storage shelf into one, this item is convenient to use. With 360° swivel function, it can perfectly display your jewelry in every angle
Practical Function: The 2 shelves at the back of the mirror cabinet offer storage possibilities for your bags, makeup tools and clothing pieces. The lower edge of the cabinet is almost on the ground, which allows for a larger storage area. With the built-in mirror, there is no need to close the door to look into the mirror when you are making up or wearing jewelry
Safe and Reliable: Made of the high-density board and connected by high-strength hardware fittings, with the lock tool and 2 keys, this cabinet is safe and reliable. Attached with door magnet, the door can be closed tightly
Amazing Storage Capacity: Organizing your jewelry and cosmetics through its various compartments, slots and hooks (include 90 earring slots, 30 holes for ear studs, 30 hooks for necklace, 91 ring slots, 5 storage compartments and 1 plastic storage pocket)
High-Quality Material: Adopting the high-quality density board, this item looks beautiful with wood grain. The inside lining of velvet can effectively protect your jewellery from scratches and dust
MDM jewelry cabinet combines the function of dressing mirror with jewelry organizer. With white paint coating, fine polished edges and corners, this mirror cabinet looks elegant and beautiful. It will be ideal for any room. With the 360° swivel base and 2 storage shelves at the back, this cabinet can make full use of the space and provide an amazing storage capacity. The interior of this cabinet provides enough space for rings, necklaces, watches, bracelets and other treasures, perfectly preserve your precious jewelry in order.
Note:
- Fragile! Please handle this item carefully to avoid breaking the mirror.
- Please do not drag this cabinet on the floor to avoid toppling.
Parameters:
- Color: white
- Material: environmentally-friendly density board
- Overall dimensions: 38 x 38 x 161 cm (W x D x H)
- Size of the small square tray: 34 x 13 x 3 cm (W x D x H)
- Size of the big square tray: 35.5 x 19.5 x 3 cm (W x D x H)
- Size of the external mirror: 26 x 144 cm (W x H)
- Size of the internal mirror: 34.5 x 23 cm (W x H)
Shipping list:
- 1 x Jewelry Cabinet
- 1 x Rolling Chassis
- 1 x Pack of accessories
- 2 x Keys
- Instructions (EN, FR, DE, IT, ES)
FREE DELIVERY | SECURE PAYMENT