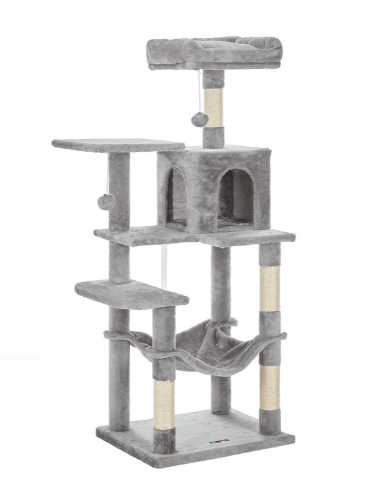 Felix Cat Tree with hammock
"It is a tree ?!"

 

Yes kitty, you're not dreaming!

 

We know you like looking at the trees outside.

 

Well, now you can have yours inside too!

 

In addition, this one has a treehouse.

 

You will be able to live there like a little squirrel!
"Am I going to be able to do the crazykitty?"

 

So yes it is!

 

With a reinforced base for more stability and an anti-tilt device, you'll be able to jump in all directions!

 

You can even invite up to 2 5kg cat buddies!
"Could I relax too?"

 

That's the point!

 

Did you see the hammock downstairs?

 

It's super fluffy so you can lay in it and take endless naps!

 

Do you prefer to relax through play?

 

There is a pompom at the top!

 

Have fun with it!
"Will the editing take a long time?"

 

Don't worry, you won't have to wait long!

 

Your master just needs to follow the easy-to-understand instructions.

 

We put numbered pieces so that it gets there easily!
"I will never be alone again?"

 

With such a complete tower you will have plenty to do when your master goes to work: rest, stretch your legs, play... In addition, the very soft surface will also remind you of his hugs!
SKUs: PCT161W01
FREE DELIVERY | SECURE PAYMENT