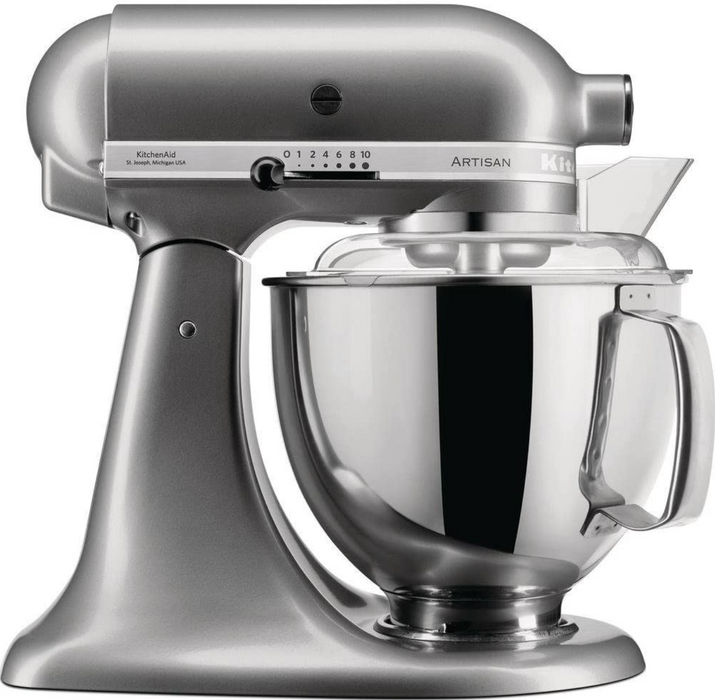 Kitchenaid Food Processor
Food Processor Artisan Stand Mixer 4.8L Silver Gray
Power 300W

Planetary movement 58 -220 rpm

Metal body

2 motor outputs

Bowl capacity 4.80 liters

Ergonomic handle

Rounded design

Color Silver gray
Much more than just a robot, the Kitchenaid is the essential appliance to have in your kitchen. 

Give free rein to your imagination by preparing ever more different and more successful recipes thanks to a high-performance robot .
Its direct transmission will guarantee you: silence, reliability and durability.

Its large capacity of 4.80 liters will allow you to make all kinds of preparation without volume limit... its planetary movement will mix your different foods in an optimal way.
Arounded design, unfailing solidity, a large capacity bowl and an ergonomic handle : all the ingredients come together to make the household appliance your faithful companion.

The planetary motion mixing action , a mechanism in which the beater spins in one direction while whisking and spinning in the opposite direction, returns the ingredients to the center of the bowl.

The 10 speed settings. ensure speed, consistency and accuracy. The direct-drive motor in the robot's head directly powers accessories that can be attached to the versatile single attachment hub for slicing meat, cutting vegetables, rolling or cutting pasta, pressing, slicing, blending and much more, with just one device!

The outstanding performance and the direct drive of the robot make it possible to prepare small and large quantities quickly and easily . No loss of power between engine and accessories.

Discover the accessories included with the 4.8L Multifunction Stand Mixer:

A stainless steel bowl of4.8 L polished with ergonomic handle .
A 3L polished stainless steel bowl , this bowl is a variation of the standard 4.8L bowl. It is suitable for mixing smaller quantities. No need to wash your bowl between two uses since you now have a second on hand. Pouring/ Protecting Lid , a one-piece, dual-purpose accessory that helps prevent splashing and features a pour spout, allows ingredients to be added smoothly while blending. The wire whisk for mixing and kneading pasta (bread, pizza, fresh pasta). Aluminum, non-stick nylon coating. A flat beater for thick preparations (cakes, icings, purées). Aluminum non-stick nylon coating.

A flat beater with a flexible edge is used for normal to thick preparations such as cakes, frostings, cookies and mashed potatoes . The flexible edge design allows for faster blending, without turning off the motor or using a spatula.

Robust and stable, the multifunction pastry robot beats, whisks, mixes, kneads and mixes, performing the most repetitive and tedious tasks with ease and elegance thanks to numerous standard and optional accessories that can be easily attached to the robot.