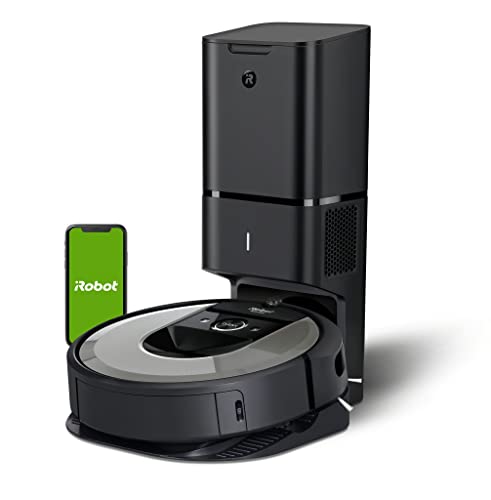 Wi-Fi® Connected Roomba® i7+ Self-Emptying Robot Vacuum
Automatic Dirt Disposal - Dual Multi-Surface Rubber Brushes - Learns, Maps, and Adapts - Clean by Object - Personalized Suggestions
Spot-cleans mess the moment it happens
Cleaning crumbs is now as easy as "Roomba, clean under the kitchen table". This intuitive experience only from iRobot means that a request to your voice assistant or via the iRobot Home App enables the Roomba® i7+ Robot Vacuum to clean up mess for you, right when it happens – immediately clean that spot and consider it done.
Cleans when, where and how you want
Keep the messiest areas of your home tidy while leaving the tricky areas alone. Roomba® i7+ Robot Vacuum knows the study from the sofas thanks to Smart Mapping, so you can make Clean Zones to direct cleaning to high-traffic areas. Plus, creating Keep Out Zones means that the Roomba® i7+ Robot Vacuum avoids certain spots, like pet food bowls.
Automatically empties its bin on its own with an enclosed bag system
Forget about vacuuming for months at a time with the Clean Base® Automatic Dirt Disposal (sold separately for the i7), which allows the Roomba® i7+ Robot Vacuum to empty itself for up to 60 days. The dust stays out of sight and your hands stay clean.
iRobot has over 30 years of robotics expertise and innovation with over 30 million home robots sold worldwide. Whether you choose Roomba, Braava or both - your floors get the specialized care they need.
Forget about vacuuming for months - For up to 60 days, the i7+ automatically empties its bin into the Clean Base Automatic Dirt Disposal with AllergenLock(TM) bags that use 4 layers of allergen blocking material to trap 99% of pollen and mold.
Cleans when, where, and how you want - With advanced navigation, the i7+ can clean messes where you want, and when you want. And equally important, it can stay out of where you don't want it to go.
Vacuums messes at the moment - Cutting-edge mapping and smart navigation allow you to send the i7+ to messes when they happen, with just a simple command to your voice assistant*. *Works with Google Assistant and Alexa-enabled devices Alexa and all related logos are trademarks of Amazon.com or its affiliates. Google is a trademark of Google LLC
Small dust? Large debris? No problem - Vacuums stubborn messes with a 3-Stage Cleaning System that uses Dual Multi-Surface Rubber Brushes and 10X the Power-Lifting Suction*. *compared to the Roomba 600 series cleaning system
The Roomba i7+ robot vacuum learns your home to vacuum in-the-moment messes -- where and when they happen. It even automatically empties its own bin, so you don't have to deal with dirt or dust for months at a time.
FREE DELIVERY | SECURE PAYMENT