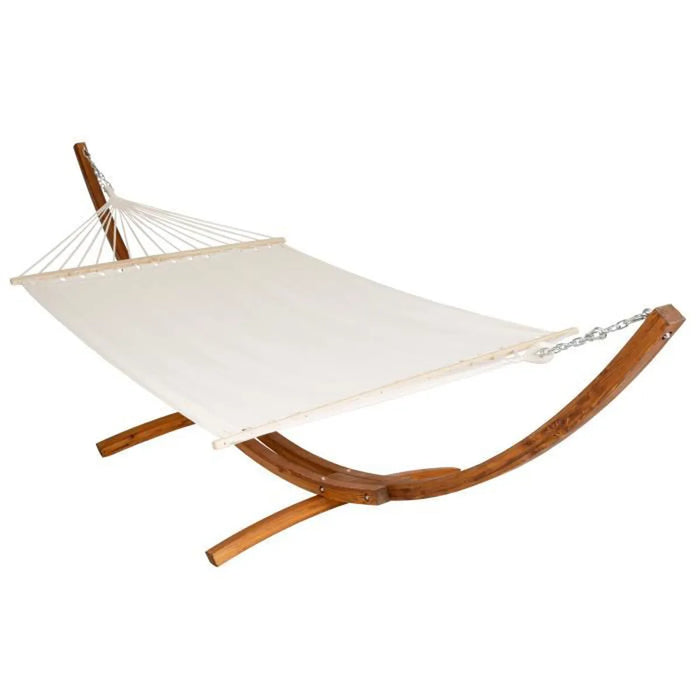 Ideal for creating a quiet corner in your garden, our XXL hammock promises hours of relaxation. Take the time to enjoy the rays of the sun, or take a siesta in the shade.
With its large sleeping surface , enjoy a zen moment, alone or with 2!
Give yourself a gentle break, create your cocooning space .
Take a seat in the heart of your hammock , enjoy a moment of relaxation.
Its soft wood structure gives a touch of natural and authentic elegance to your interior and exterior.
Description:
 

Wooden hammock with Dallas cotton canvas.
Hammock
Total length:
 

315 x 115 x 120 cm Seat dimensions: 100 x 200 cm Max/min hanging dimensions: 315/270 cm.
Length of wooden bar:
 

Spreader bar: 100 cm.
Material:
 

Structure: Larch wood - Natural wood color Canvas: cotton - Ecru color.
Maximum load:
 

120 kg.
Complete product weight:
 

22 kg.
Packaging:
 

Recommended distance from the floor: 50 cm Can be hung from the ceiling Canvas to be washed by hand.
Maximum load (kg):
 

120.
Packing:
 

1 package: - 1.58 x 0.37 x 0.13 m, 24 kg.
Wooden hammock with "Dallas" cotton canvas - Dimensions: 315 x 115 x 120 cm - Ecru - Structure: larch wood - Canvas: cotton - Very resistant
FREE DELIVERY | SECURE PAYMENT