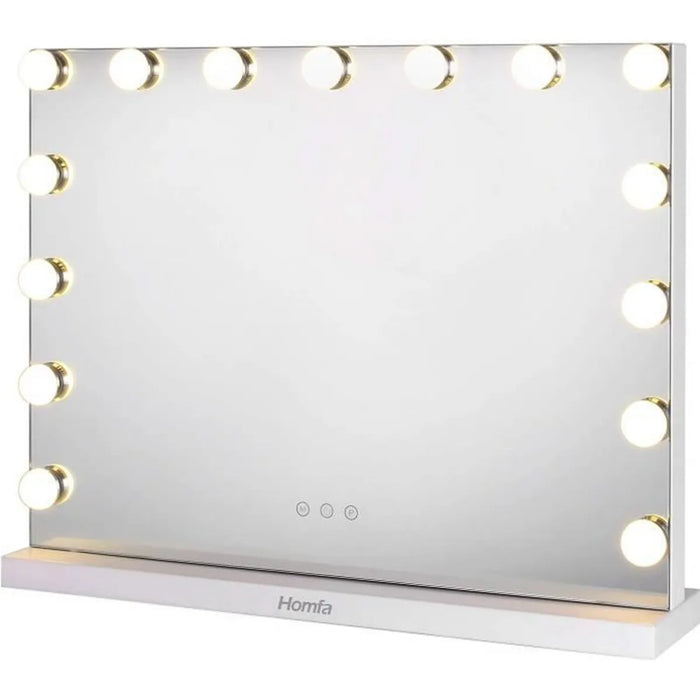 Hollywood Lighted Makeup Mirror
Good lighting, Hollywood style makeup mirror.

 
High quality.

 

The base and the structure are in metal and have been finely varnished.

 

The back of the plate is made of wood.

 

Everything guarantees the high quality of light and gives a stylish impression.

 

The iron base is very stable.

 

3 buttons with touch control technique.

 

The button in the middle is the opening and closing maneuver.

 

Touch the 'M' button to change temperature and color.

 

By pressing the 'P' key, you can gradually change the brightness.

 

LED bulb.

 

The lifespan of the LED bulb between 50,000 and 100,000 hours.

 

The soft light does not hurt your eyes.

 

3 color temperature adjustable.

 
Light color: 1, Cool white.

 

If you want to see your face very clearly, you can choose cool white.

 

A single cold white bulb: 5444K, 34.78 Lm.

 
2, Neutral white.

 

If the light in the room is insufficient, you can use neutral white to see better.

 

The bulb in neutral white: 3726K, 41Lm.

 
3, Warm white.

 

If you wear makeup well in the evening, you can apply warm white to make your makeup look very natural and perfect.

 
Single bulb in warm white: 2798K, 34Lm.

 
Power cable.

 

EU standard plug.

 
The plug conforms to the European standard and measures 1.2 m.

 
Output power: 12V 1A.

 

Connector diameter: 5.5mm.

 
Technical data: Mirror dimensions: 58x43cm (WxH).

 
Base dimensions: 58x12x2.5cm (LxWxH).

 
Power consumption: 100-240V 50/60HZ.

 

Output power: 12V 1A.

 
1,

 

The mirror is a fragile product, please contact us if you have a problem.

 
2, Also, please order the mirror after measuring your makeup table.
The iron base is stable. The bulb has a long life. The HD mirror can show the clearest of your face. Fifteen LED lights, color temperature: 3000/4500/6000K, warm light/neutral light/cold light. Three control buttons
FREE DELIVERY | SECURE PAYMENT