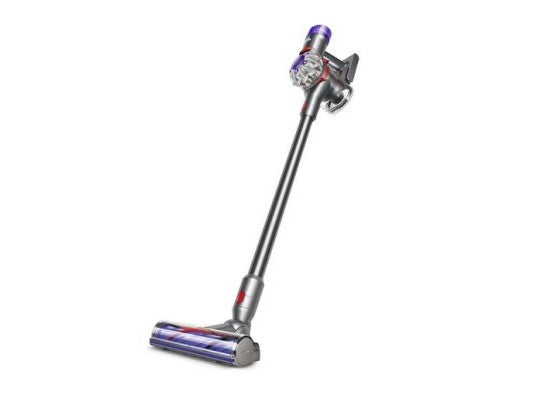 Floors, carpets, rugs, furniture and height

Battery life of 40 minutes

Capacity of 0.54 liters

Unlimited range of action

Digital engine

Cyclones 2 Tier Radial

State-of-the-art filtration

Acoustic design
The DYSON V8 stick vacuum cleaner is equipped with a battery offering up to 40 minutes of suction autonomy without loss of speed, thanks to its ability to store a high charge per unit of volume and to quickly release this energy.

It offers 2 cleaning modes to suit your needs. Among them, the Max mode provides maximum power for the most demanding tasks. You can also keep Normal mode by using one of the 2 brushes of your choice depending on the task to be performed.

Its cutting-edge digital motor spins up to 110,000 revolutions per minute, generating powerful suction on carpets and hard floors. This vacuum cleaner features Cyclones 2 Tier Radial™technology! 
In fact, it has 15 cyclones distributed over 2 rows, which operate in parallel to increase the airflow and capture fine dust. With its acoustic design, this product is designed to absorb vibrations and attenuate the sound level, and thus keep it at a low level. Its Motorbar brush offers better performance thanks to the rigid coated nylon bristles which effectively penetrate and remove dust from carpets, and the carbon fiber bristles which remove fine dust from hard floors.
FREE DELIVERY | SECURE PAYMENT | 2 YEAR GUARANTEE