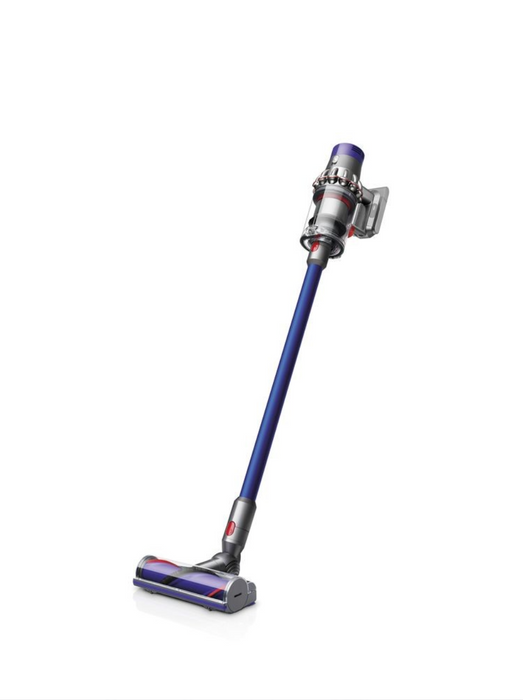 Dyson V11™ Total Clean Cordless Vacuum
Experience powerful cleaning without the noise with the DYSON V11 Total Clean. This advanced stick vacuum features a Hyperdymium digital motor that spins up to 125,000rpm and a detachable 7-cell lithium-ion battery providing 60 minutes of constant suction. Quickly transition between broom, handheld and floor modes and effortlessly eject the dust with one movement. Enjoy the utmost cleanliness with 99.97% particle filtration as small as 0.2 microns. Make cleaning easy and peaceful!
The most powerful suction of any cordless vacuum on the market
Floors, furniture and heights

Autonomy up to 60 minutes

Capacity 0.76 liter

Unlimited radius of action

Power 610 Watts

Many accessories

One-click detachable battery

2 brushes and many accessories
The

 
V11 in

 
Dyson's
 

Total Clean version is equipped with many accessories:
-

 
direct drive brush:
 

powerful and direct suction on hard floors and carpets
- soft roller brush:
 

roller fitted with nylon bands to capture large debris while maintaining a good seal with the ground.

 

Anti-static carbon fiber filaments to eliminate fine dust.
- combined accessory
 

: 2 in 1, large duct for crumbs and large particles and brush for dust,
-

 
adapter for low furniture:
 

bends at 90° and allows you to clean under your low furniture without bending down,
- long nozzle
 

for cleaning in confined spaces.
- wall-mounted charging station
- charger Freed from wires, freed from constraints thanks to the DYSON

 
V11 TOTAL CLEAN 
cordless broom vacuum

 

cleaner.
Detailed Features:

Direct-drive brush

Powerful, direct suction on hard floors and carpets.

Soft Roller Brush

Roller features soft nylon strips to capture large debris while maintaining a good seal with the floor. Anti-static carbon fiber filaments to eliminate fine dust.

Combination accessory

Large duct for crumbs and large particles and brush for dust.

Long nozzle

For cleaning in confined spaces.

Adapter for base units

Folds up to 90° and allows you to clean under your low furniture without bending down.

Charging wall station: To charge and store the device and its accessories when not in use.

Charger : Charges your vacuum cleaner, with or without the docking station.

Unit dimensions with tube and brush : 1286 x 250 x 261 mm (L x W x H)

Tube length: 595 mm

Weight complete product weight 3.08 kg

Collector volume 0.76 l

Motor wattage 610 Watts

Suction power in Boost mode 220 Airwatts

Suction power in Med mode 45 Airwatts

Suction power in Eco mode 23 Airwatts

Battery voltage in Boost mode 29.4 volts

Battery voltage in Med mode 25.2 volts

Battery voltage in Eco mode 18.55 volts

Battery life in Boost mode - Hard floors 5 minutes

Autonomy in Med mode - Hard floors 40 minutes

Autonomy in Eco mode - Hard floors 60 minutes

Charging time 4h30

HEPA filtration monthly maintenance
FREE DELIVERY | SECURE PAYMENT | 24 MONTHS WARRANTY