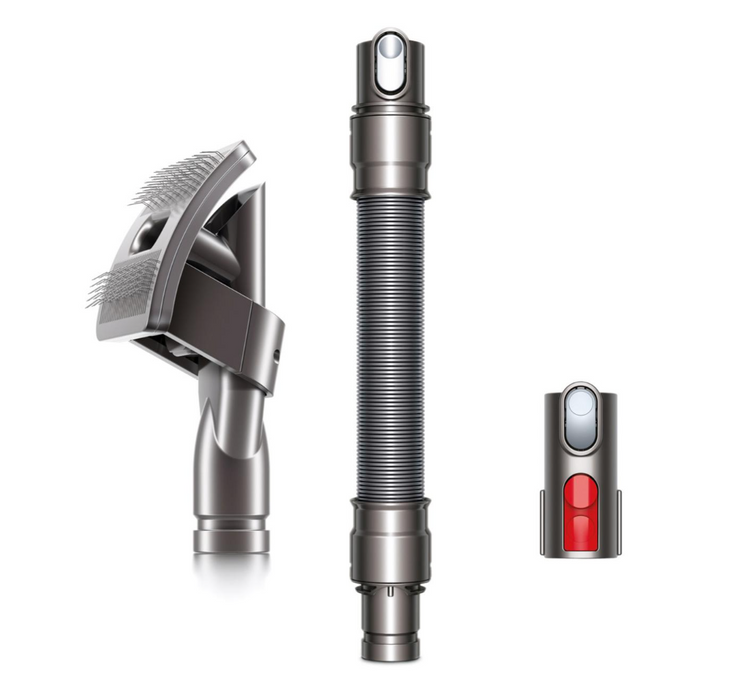 Pet grooming kit
Dyson-engineered accessories to groom medium- and long-haired pets
Dyson V15 Detect™ vacuums

Dyson V12 Detect Slim™ vacuums

Dyson Digital Slim™ vacuums

Dyson Cyclone V10™ vacuums

Dyson V7™ vacuums

Sound engineering

Dyson's Pet groom tool is acoustically engineered to make grooming more peaceful for your pet. You can also use the tool without the vacuum on, and then step away to suck up the hair. ​

For medium- and long-haired pets

The Pet groom tool can be used on any pet that you already groom using a standard grooming slicker brush.​

Self-cleaning

Release your thumb to retract the bristles. The vacuum sucks tangled hair straight into the bin.

Angled bristles

364 slicker bristles are angled at a 35-degree flex to an upright position as you brush, penetrating deep to grab loose hairs.
Extension hose for comfortable grooming
Includes the quick-release adaptor and extension hose to add over 3 feet of flexible reach to your Dyson cordless vacuum.
Is the Pet groom tool right for you and your pet?
My pet has medium or long hair. 
My pet does not have a wool coat (for example, dog breeds with wool coats include Poodle, Bichon Frise and Puli).   
My pet is considered an adult.  
I already use a slicker brush to groom my pet.  
I already own a Dyson vacuum and my pet isn't disturbed by it.  
I have someone who can help me groom my pet, if needed.
If I'm still not 100% sure the Pet groom tool is right for me and my pet, I'll talk to my veterinarian or Dog Groomer before purchasing.
FREE DELIVERY | SECURE PAYMENT