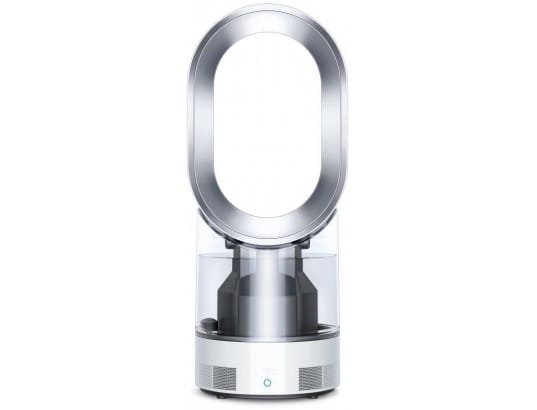 DYSON - AM10 Humidifier and fan white
Fan and Humidifier

Ultraviolet Cleanse technology: kills 99.9% of bacteria

Air Multiplier™ Technology

Climate control and automatic function

Sleep function

Magnetized remote control for storing on the device
The Dyson Humidifier AM10 ventilates and humidifies  by  killing 99.9% of bacteria for hygienic and even room humidification. 
Thanks to Ultraviolet Cleanse technology , its UV-C light kills 99.9% of bacteria in the water before it is released into the ambient air in the form of a fine mist . The ambient air is humidified regularly and quickly . Perfect for rooms where the air is too dry due to heating, especially in winter, especially bedrooms. The device measures the ambient temperature and humidity of the room in order to guarantee an  optimal ambient humidity level.

The Dyson Humidifier AM10 humidifier is equipped with a ventilation function which allows you to cool in summer and a standby function which allows you to program the shutdown of the device after a period of time ranging from 15 minutes to 9 hours. .

Convenient, the remote control lets you adjust the airflow from a distance and is magnetized for easy storage on the device.
FREE DELIVERY | SECURE PAYMENT