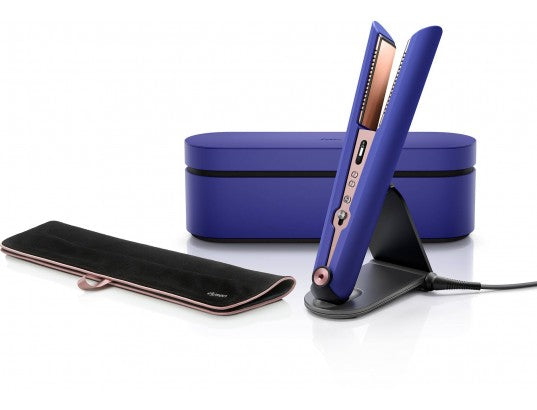 Dyson Corrale™ straightener
Goodbye excessive heat. Hello, flexing copper plates. 
With a new charging station!
Less heat, half the damage.
Without compromising your style. Turning down the heat on conventional hair straighteners might reduce damage, but it also affects styling. By gathering hair, our flexing copper plates let you achieve the same style with less heat. For 50% less breakage reduced frizz and fewer flyaways. Engineered to create a range of styles
The Dyson Corrale™ straightener can create a variety of different styles – from curls and waves, to smooth and sleek. See how it can help you to get the look you want.
Enhanced Styling with cordless versatility 

Effective straightening requires both heat and time. The Dyson Corrale straightener delivers up to 30 minutes of cordless styling with the thermal performance of a corded hair straightener. It fully recharges in just 70 minutes. And if you need to style for longer, just attach the cable for hybrid charge mode. 3 precise temperature settings variable temperature settings - 165 ° C, 185 ° C, and 210 ° C - ensure effective styling for all hair types and lengths.
Intelligent temperature regulation
Our integrated sensor system regulates the temperature of the heating plates 100 times per second.
Preserves the hair color
Excessive heat can cause hair to fade a lot. The Dyson Corrale ™ straightener is equipped with flexible heating plates that allow straightening with less heat. This protects the hair and preserves its color.
Perfect for your travels
Its universal voltage and airplane mode allow you to take your straightener anywhere with you³.
Suitable for all hair types
Three precise heat settings (165°C, 185°C and 210°C) to suit your hair type, length and desired style
OLED display
Displays battery level, temperature control and charging status during use.
Up to 30 minutes of cordless battery life²
Thermal performance identical to a wired straightener. Fully recharges in  just 70 minutes. 
Possibility of extending the autonomy
Store and charge your straightener on the new portable charging station. Place your straightener on the charging station between two bits to maximize its charge before and during use.
FREE DELIVERY | SECURE PAYMENT