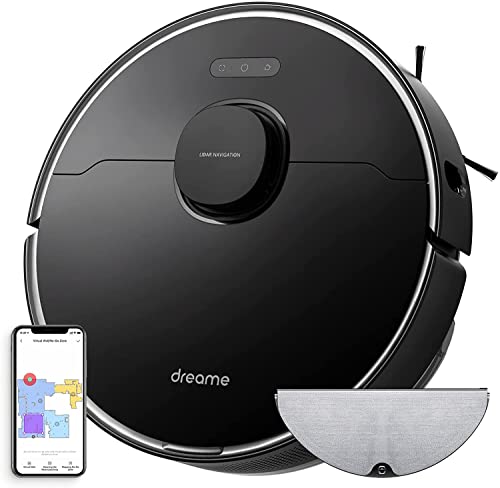 Dreame L10 Pro Robot Vacuum Cleaner
Robot Vacuum Cleaner with Dual-Line LiDAR Navigation, 3D Obstacle Avoidance, 4000Pa Suction Multi-Level Mapping, Compatible with Alexa/App, Ideal for Pet Hair, Carpet, Hard Floors.
Cleans as if it Sees: With dual-line LiDAR navigation, real-time perception and high precision 3D technology of robotic vacuum accurately identify 100+ obstacles, to minimze bumping or entanglement and keep your automatic cleaning more hands-off

Remarkably Deep Cleaning: 4,000Pa of powerful suction easily pulls hair, dirt, and dust up off of floors and from deep within the carpet. A versatile roller brush with a set of comb-like bristles in the smart vacuum handles tough dirt and prevents hair from tangling

Vacuuming Meets Mopping: Handle tough messes with ease thanks to the combination of the powerful vacuuming and the versatile drag mopping and start coming home to mopped hard floors and vacuumed carpets

Just Keeps Cleaning: A 5,200mAh battery delivers up to 150 minutes of continuous cleaning to vacuum a maximum of 2,690ft² or mop up to 2,152ft² on a single charge. (Data obtained from Dreame lab testing. Actual performance may vary.)

Take Control: A detailed app puts control at the tips of your fingers. Save multiple maps, divide or merge areas, label rooms, set no-go zones so that certain areas will not be cleaned or mopped, and more. Amazon Alexa compatibility lets you just say the word to start, pause, and stop cleanups. 
FREE DELIVERY | SECURE PAYMENT