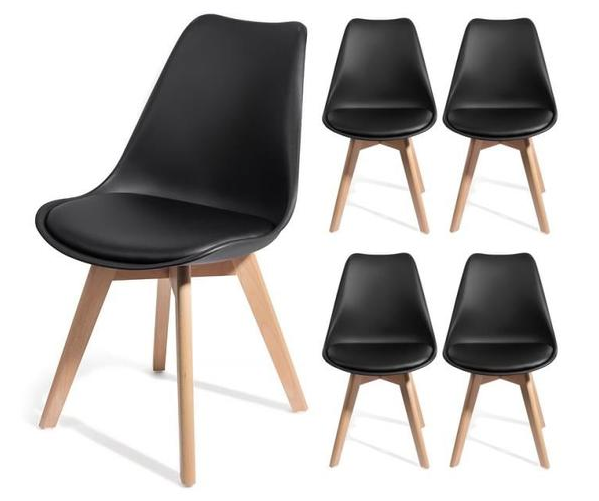 BEKKA- Dining Chairs Modern Upholstered Kitchen Chairs with Wooden Legs and Soft Padded Cushion
Scandinavian dining chairs set
Description
Beautiful set of chairs Bekka Scandinavian. The Bekka chair is distinguished by its attractive and original shape inspired by the Tulip flower. Its Scandinavian style will bring aesthetic value to your interior.
These chairs will add a modern touch to your interior. It ideally fits into the space of people who value style and imagination in their lives. The chair is very light, slick, and at the same time durable.
Features
The seat is made of polypropylene with a stain and mechanical damage-resistant PVC cushion, and the legs are made of durable beech wood. It gives a high comfort of use. The attractive and interesting form of the Bekka will give the right look to any room. It will be ideal to equip different kinds of rooms: the dining room, living room, study, waiting room, restaurant, or club.
Dimensions
Backrest Height: 40cms
Chair Height: 83cms
Seat Height: 46cms
Seat Width: 48cms
Seat Depth: 57cms
FREE DELIVERY | SECURE PAYMENT | STOCK LIMITED