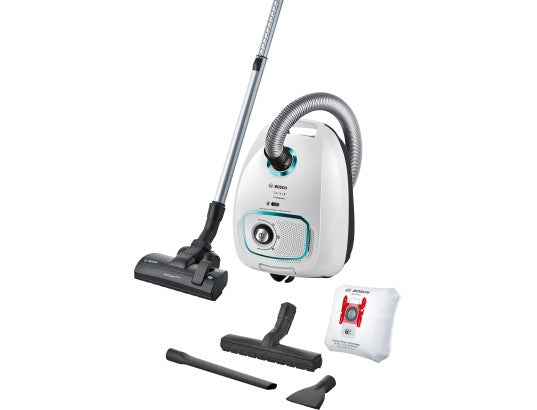 BOSCH - BGLS4HYG2 ProHygienic Serie 4 canister vacuum cleaner
Special Allergy

Dual position brush

Hard floor brush

3 accessories: radiator nozzle, upholstery nozzle, and special mattress accessory

Power electronic dimmer

Range 10m
The BOSCH BGLS4HYG2 will ensure excellent suction performance and purer air output for allergy sufferers.

Washable "UltraAllergy" hygienic filter
Excellent air quality is essential, especially for allergy sufferers.
The washable "UltraAllergy" filter eliminates 99.99% of allergens, fine dust particles, and bacteria and prevents them from coming back into the room with the exhaust air. For exhaust air that is cleaner than the normal air in your home.

This vacuum automatically adjusts its power.

It is equipped with two brushes, a double position universal brush and a hard floor brush, 3 accessories, an XXL radiator nozzle, an upholstery nozzle, and a special mattress accessory.
FREE DELIVERY | SECURE PAYMENT