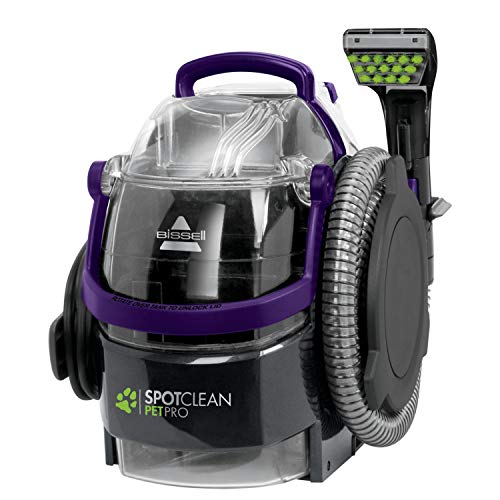 BISSELL SpotClean Pet Pro
Most Powerful Spot Cleaner, Ideal For Pet Owners
The BISSELL SpotClean Pet Pro is a powerful emergency spot cleaner, which quickly and easily lifts away spots, spills, and stains from carpets, sofas, pet beds, car interiors, and more.
Large capacity easy to fill and empty tanks - Easy grip, flat fill tanks allow for quick fill and easy empty.
Long 1.5 m built-in hose ready for use allowing you to reach anywhere time when & where needed.
Easy storage - Lightweight, compact design allows storage in small spaces.
Includes 7cm Tough Stain Tool, Stain Trapper Tool, & sample of Wash & Protect Pet Formula.
Be prepared for unexpected messes with the convenience of the BISSELL SpotClean Pet Pro. It helps remove spots and stains from wherever you find them using water, BISSELL detergent, and handheld cleaning tools with powerful suction. From high-traffic areas and stairs to upholstery, car interiors, and more, you have the ideal cleaner in the SpotClean Pro. The 7-centimeter Tough Stain Tool helps to get at tough, set-in stains out of stairs/upholstery and even car interiors. The Stain Trapper Tool is ideal for pet messes. The mess is collected and stored in a separate, removable container that twists off for easy emptying and disposal. This unique tool keeps pets and other liquid messes inside the tool and out of your machine. The ability to quickly erase stains the first time is finally here.
FREE DELIVERY | SECURE PAYMENT