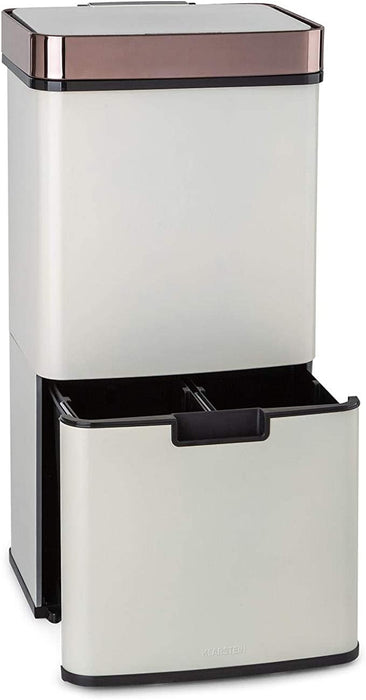 72L Recycling bin with sensor
72 L Volume in 4 Bins, Residual Waste & Recycling Waste: 43 & 2 x 12.5L, Automatic Opening and Closing.
Beautiful large design waste bin - the large top compartment has a capacity of 48 litres. In the lower part, there are two inner boxes of 12.5 litres each. This high-quality trash can is dirt-resistant and fingerprint-proof. It works on 6 x AA batteries.
With three compartments + 1 waste bin for green waste - This bin has 3 compartments. These are used to separate waste. For example, use one compartment for plastic, 1 for paper, and the large compartment for residual waste. You can place a small 4-litre container for green waste in the large box (this is supplied free of charge).
With inner ring & inner boxes - The large compartment has an inner ring. This keeps the trash bag in place at all times. There are two inner boxes in the bottom compartment. Small garbage bags can be used in these inner boxes. This trash can is suitable for waste bags of 60 and 15 litres.
This beautiful design waste bin is perfect for the kitchen, living room and any office. This trash can is convenient and very easy to use. It is a large dustbin with a volume of over 70 litres. The dimensions of this waste bin are 31.5 cm deep x 42 cm wide x 82.5 cm high.
FREE DELIVERY | SECURE PAYMENT