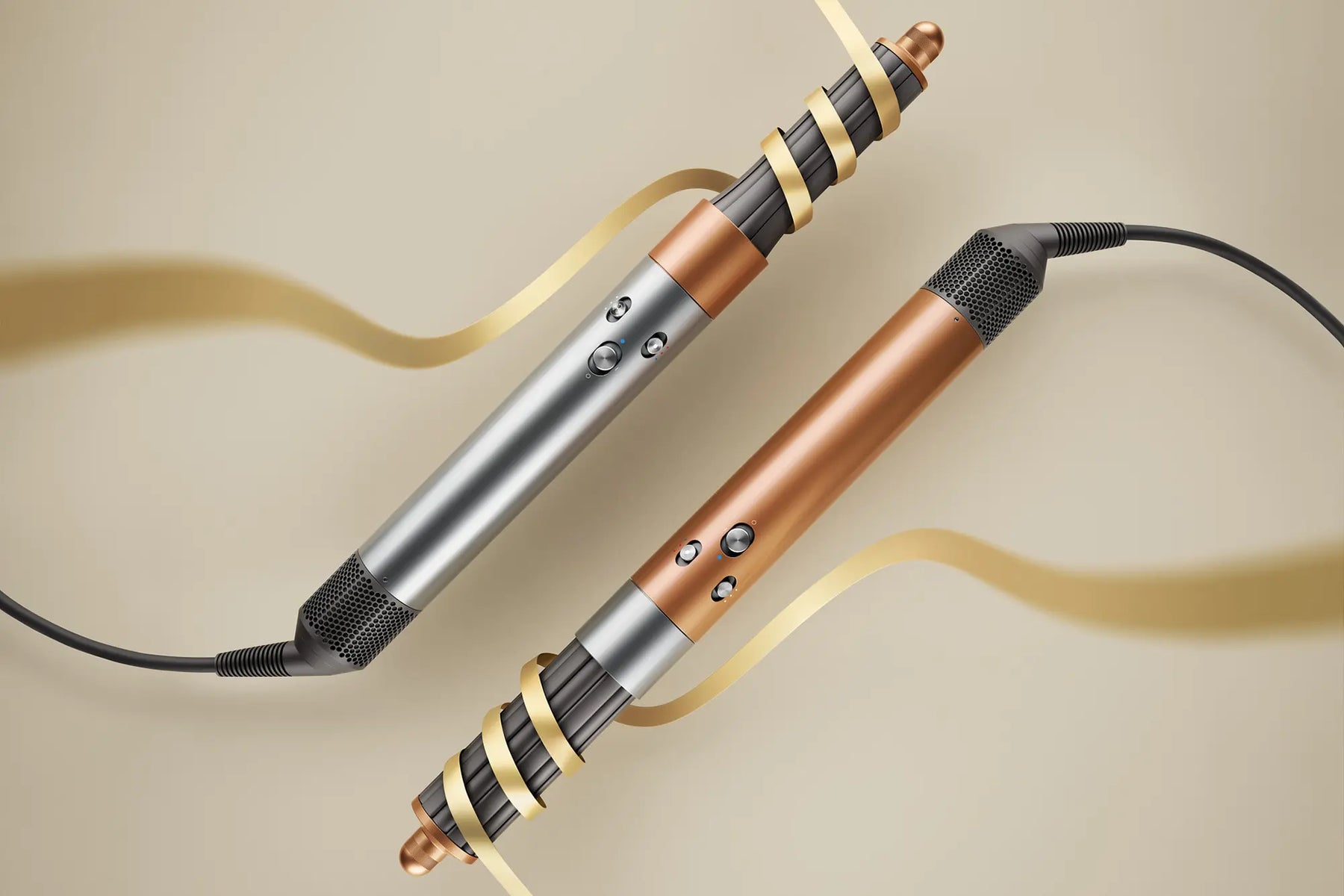 Dyson Airwarp Complete
What's all the buzz about the Dyson Airwrap?
The Dyson Airwrap Complete is a multi-styling at-home hair tool that can create a variety of looks based on the attachments (and techniques) you use. The Airwrap Complete set is available in the Long version (complete long), with attachments designed to style hair that is chest length or longer or the Normal version (complete) for shoulder length hair.
What's Included in the Dyson Airwrap Complete?
The Airwrap Complete comes with six attachments: a Coanda smoothing dryer, which can blow dry your hair or smooth flyaways depending on the setting you choose; a 1.2-inch barrel, which uses airflow to create curls; a 1.6-inch barrel, which creates looser curls; a firm smoothing brush, which is shaped like a traditional paddle brush; a soft smoothing brush; and a round volumizing brush. The only difference between the long and standard versions is the length of the 1.2-inch and 1.6-inch curling barrel attachments.
Depending on the combination of attachments you utilize on any given day, you can use the Airwrap to rough dry hair, create curls or waves, style bangs, smooth flyaways, blow hair straight, style a bouncy blowout, and more.
How Does the Dyson Airwrap Work?
Dyson is well known for its innovations in the vacuum category—so it makes sense that the brand decided to utilize a similar air pressure technology to release its line of blow-dryers and, later, versatile hair stylers. The Dyson Airwrap Complete consists of a base tool, which contains the Dyson V9 motor and is used to power every attachment. Since each attachment uses airflow to style hair, it also sets the tool apart from a standard blow-dryer or styling iron—for example, even if you're curling your hair using a barrel, you'll still hear the motor blowing air.
Dyson Airwrap Complete Attachments:
Here's a quick breakdown of how each attachment works:
The Coanda smoothing dryer has two settings: One that functions like a standard blow-dryer, and one where the air is extremely targeted and the tool can be glided over hair to smooth and shape flyaways.
The 1.2-inch and 1.6-inch barrels use airflow to blow, wrap, and cling hair around the barrel for a streamlined curling experience—there's no real need to rotate the tool or use a second hand to wrap your hair around manually. Each barrel attachment can be toggled to angle the direction of the curl (either toward or away from your face).
The soft and firm smoothing brushes brush through and dry hair at the same time for a straighter texture.
The round volumizing brush minimizes the work that a blowout normally entails, where you might hold a blow-dryer in one hand and a round brush in another.