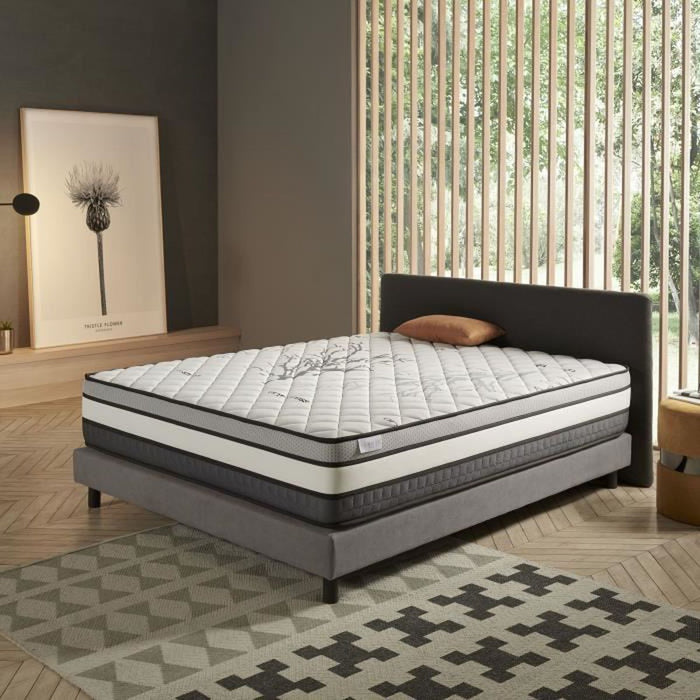 Solar Mattress 180 x 200cms Super Comfort Memory Foam
The SOLAR mattress is for the most demanding people with the quality of their mattresses.

Its high-end characteristics make this model one of the best memory foam mattresses on the market.

In fact, its complex composition is designed to provide a very noticeable relaxation of muscle tensions and spasms.

With its 30CM thickness, it provides excellent support to the spinal cord, and it adapts perfectly for people with back pains.

A multilayer system to give you the ideal comfort, even for the most demanding people.

High-end mattress, thanks to the integration of all the latest technologies from COSMOS Bedding.
A technique to combine HQ materials to provide superior flexibility and adaptability. A FlexiMax HQ polyurethane foam core (23 to 38kg/m3) combined with high-density latex (70kg/m3) integrated to the wrapping of the mattress. Offer a long-lasting support and it's perfectly balanced for your back. This technological innovation has been developed by COSMOS engineers, it will limit the painful pressure points and it will help to alleviate numbness when waking
The Visco V90 is a new generation viscoelastic. It has the property of adapting to the ambient temperature even when it is lower.
It is one of the few high-end mattresses that has high-density memory foam on both sides, the summer and winter ones.
The last innovation in the world of bedding, the superior quality FlexiMax polyurethane foam, it's offered for people that seek a firm and invigorating support when they sleep.
A State-of-the-art material, Visco V200 viscoelastic is denser than traditional memory foams, improves blood circulation and promotes muscle relaxation for a more serene awakening.
7 Confort Zones
Thanks to its structure with 7 different zones, this mattress will offer you a soft reception and a firm support for every part of your body.
Independent Surfaces
The independence of beds will allow you and your partner to move and change positions during the night without causing discomfort.
Reversible Mattress
The Solar model is reversible, on both sides and from head to toe, to better take advantage of its properties.
Double Sided Winter/Summer
This mattress has two differentiated surfaces adapted for each season. One side covered with a thick and warm fabric for the winter, and another side covered with a breathable 3D fabric for the summer.
OPTIMAL
quality certified
Oeko-Tex® Certified
The fabrics used in the manufacture of Cosmos® Bedding mattresses are all certified free of toxic substances by Oeko-Tex®
Hypoallergenic Treatment
All the materials used in the manufacture of Cosmos® Bedding products have been subjected to hypoallergenic, anti-mite and antibacterial treatments.
Air Fresh System
Equipped with the Air Fresh system that allows perfect air circulation between all the fabrics and avoids the concentration of humidity in the mattress.
General

main color

White




Models

Extremely durable - quality design.




Number of places

2 seats




Certifications and standards

Oeko-tex® certified: Guaranteeing the absence of harmful substances




Care advice

Do not wash your mattress with water;

 

in general, we must avoid wetting the foam.


You can generously sprinkle the mattress with baking soda (adding a few


drops of aromatic essence if you wish), let stand 2 hours.

 

Gently


vacuum the entire surface of the mattress (with a clean nozzle) to remove the baking soda.




This will gently clean its surface, while absorbing excess accumulated moisture.




Range

COSMIC RANGE 100% Quality - Satisfaction Guaranteed




Type of product

NEW MATTRESS DIRECTLY OUT OF THE FACTORY - BRAND COSMOS




Product Description

.

 

Multilayer system mattress with high density Visco shape memory.
.

 

Sleeping independence.

 

7 areas.

 

Firm, comfortable support.

 

Ergonomic foam for better


support.


.

 

Maximum hygiene system AIRFRESH SYSTEM self-ventilation and temperature regulation.
.

 

Extremely durable with quality design.
.

 

Made 100% Quality- Satisfaction.
.

 

3D FRESH side band for optimal ventilation.
.

 

Quality system.

 

Oeko-tex certified, tested against harmful substances.
.

 

NATURALEX 10-YEAR warranty.


Product information

Removable

No




Type of mattress

Memory




Foam




Coating - ticking

Thick extra soft DELUXE stretch fabric: more comfort - superior quality




Protective treatment

Antiperspirant




Hypoallergenic




Support areas

Extra Comfort Mattress: 7 support zones SUPERIOR ADAPTABILITY




Support

Firm




Very firm




Mattress thickness

30cm




Type of foam

Memory




foam High Resilience (HR)




foam Polyurethane foam




Homepage

Tonic - Firm




Summer / winter side

Yes




Sleeping independence

excellent




Sensitive points

Heavy legs




Back pain




Light sleep




Filling

Mousse




Mattress delivered rolled compressed

Yes




Delivered rolled

Yes
FREE DELIVERY | SECURE PAYMENT