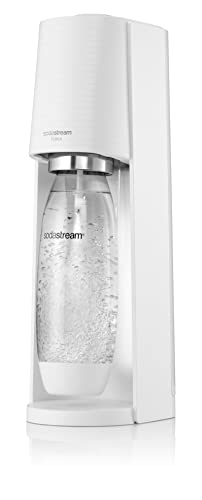 SodaStream Sparkling Water Maker Machine
SodaStream Sparkling Water Maker Machine, with 1 Litre Reusable BPA-Free Water Bottle for Carbonating & 60 Litre Quick Connect CO2 Gas Cylinder – White or Black
Introducing: Easily transform plain water into fresh sparkling water, or tasty soft drinks, in seconds. Designed for the modern kitchen, this sleek and stylish machine will complement any décor
Better for you, better for the planet: Keep hydrated and create healthy and delicious flavoured drinks, cocktails and more at home. Say goodbye to single-use plastic and hello to effortless sparkle
Be the change: Reduce your plastic waste as our fizzy water maker could save you up to 1,282 single-use plastic bottles over 4 years. With SodaStream, sparkling water doesn't have to cost the Earth
Turn tap water into something truly exciting: Make delicious carbonated water with the touch of a button. Plus, our new Quick Connect technology means fast and easy no-twist CO2 cylinder insertion
Versatile and convenient: Includes 60 litre pink 'Quick Connect' gas cylinder and a 1-litre dishwasher safe bottle which is BPA free. The perfect starter kit for making your own fizzy drinks at home
The SodaStream is an innovative sparkling water maker that turns plain tap water into deliciously sparkling water in seconds. Designed for the modern kitchen, the stylish machine features our new Quick Connect technology for fast and easy CO2 cylinder insertion.
To create your own fizzy water at home, simply fill the included re-usable BPA-free bottle with tap water, place it into your SodaStream and add some sparkle by pushing the carbonating button.
The convenient snap-lock mechanism holds your bottle in place with a single-push motion. SodaStream will revolutionise the way you enjoy drinks at home. With the push of a button, you can keep hydrated with cold, fresh sparkling water just the way you like it.
Discover a world of possibilities with your new home carbonator, with outstanding flavours available for fabulous soft drinks, cocktails, healthy mocktails and more. With the Terra fizzy water maker, you won't just be saving money on buying bottled sparkling water, but you'll also be helping to reduce plastic waste.
Our sustainable carbonated water maker machine allows you to save up to 1,282 single-use plastic bottles from our planet over 4 years. You can also say goodbye to using up precious storage space or lugging bulky bottles of sparkling water home. It takes your own tap water from flat to fizz in seconds, with no batteries required.
The sleek SodaStream carbonator machine will look outstanding in any kitchen and will be a firm family favourite for many years to come. It includes a 60-litre Quick Connect CO2 gas cylinder, so you can make up to 60 litres of sparkling drinks, and simply exchange the bottle when empty.
Celebrate less plastic waste and great taste, with SodaStream. 
------24 months warranty------
FREE DELIVERY | SECURE PAYMENT