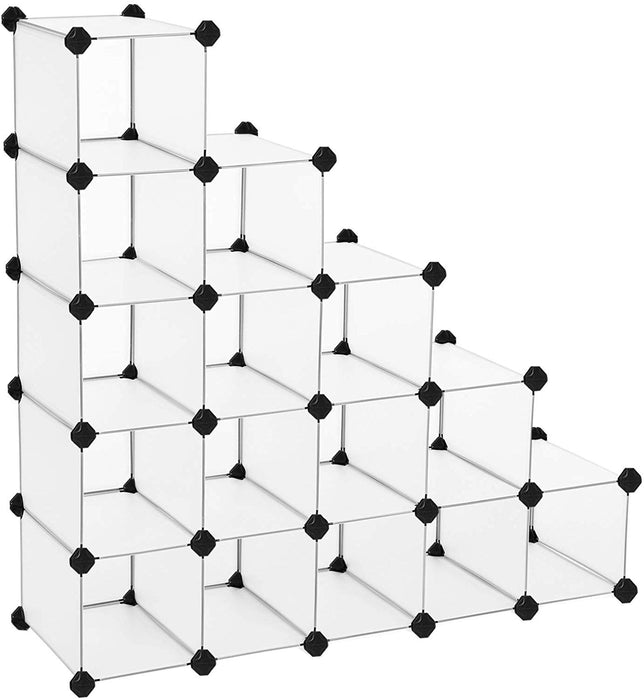 MDM 15-cubes DIY Plastic Shoe Rack Interlocking Modular Shelving Storage Unit Organiser kids Closet Wardrobe Clothes Cabinet Translucent.
Amazing storage capacity - Dimensions of each grid: 22 x 35 x 22 cm (W x D x H), storage capacity of each grid: 17 L. With 15 grids (total storage capacity: 272 L), this plastic closet is convenient to store your items such as shoes, clothes, toys etc. and suitable for the whole family to use.
Good stability - Made of high-quality PP plastic (sheet), durable ABS plastic (connector) and iron wire (flat edge), this storage cabinet is robust, durable and odourless. Maximum loading capacity of each grid: 10 kg. With the provided screws and expansion bolts, it can be fixed on the wall for safety.
Simple assembly - Easy to assemble and disassemble with few accessories and simple structure. With the provided accessories (if the required sheets and connectors are sufficient), this storage shelf also can be assembled in different shapes and structures, which are showed on the instruction.
Multiple uses - Not only can be placed anywhere in your house or office as a storage shelf to store clothes, shoes, toiletries etc., but also can be used as a partition to provide the private space for you.
Easy to clean - Made of PP plastic, the sheet is waterproof, moisture-proof, anti-mildew and anti-dust. Only need to wipe it with wet cloth for daily cleaning.
FREE DELIVERY | SECURE PAYMENT